RT etiquette. Thanking someone for a RT. What's the current best practice?
Most people access Twitter through use of TweetDeck, Hootsuite or Seesmic these days, and may not be bothered by what I'm talking about in this blogpost. I'm one of those rare birds who actually still goes on Twitter and uses the social network in it's raw form. (Don't get me wrong. There's definitely a time and place for third party apps, but what about the essence of the actual social network itself?) Having said that, I've been watching the trends, particularly in thanking someone for a RT.
Here's what I've decided.
1. It's annoying to me when I see chains and chains of "Thanks for the RT!" like this. First of all it's not personal, and it's not original content. 
Yeah, yeah. I get that when the "@" starts a tweet, that tweet is hidden from the feed of the follower. BUT it's not hidden from the feed of tweets on the originator's page. So to me, when I visit AmaWaterways, I'm totally turned off. When I visit companies on Twitter, I do not want to see this!
(Note: AmaWaterways is a client of a former place of employment of mine. I'm not too happy about what I'm seeing here.)
2. Is the solution to NOT thank people for their RT? Twitter expert, Scott Stratten, doesn't seem to do it. But that could mean that he gets too many to keep up with. Scott focuses on having conversations with people.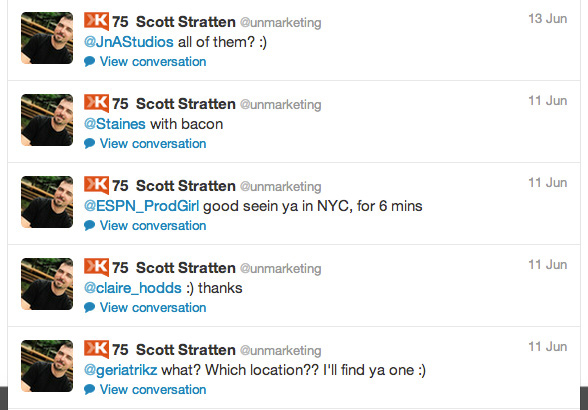 3. Social Media Specialist, Kim Garst, seems to have a reasonable solution. Kim keeps it personal and catered to each individual, yet she is still thanking each person for their individual attention to her. Notice also that Kim makes a point of not using the @TWITTER_HANDLE to start every single tweet. Some of her tweets are being seen in her follower's feed, but not so many that it seems over the top. Makes sense! And I'm not annoyed by this strategy!
4. My "Thanks for the RT!" thoughts pertain to "Thanks for the Follow!." "Thanks for the #FF!"  and "Thanks for the shout-out!" too.
Here's how Facebook expert, Mari Smith, addresses a shout-out. Always making it personal!
In conclusion –
Give thanks on Twitter with care. Be strategic. Be thoughtful. Be personal. It's a win win formula!
What are your thoughts on how to thank people for RT-ing you? Please comment below. I would love to hear your thoughts!

SOCIAL MEDIA CONSULTING & MANAGEMENT: I'm available for one on one social media consulting, as well as ongoing daily social media management. Whether you want someone to get you started in the digital space, or you just need a some help along the way, I'd love to work with you. Please take a look at my Social Media Consulting & Management packages.