Earlier today I found myself in a mini mass-tweet session with @ToolboxTalks after I tweeted about boycotting the new Twitter Header, and they responded asking why:
@sarahbethrosa What don't you like about it? A little cluttered? #TwitterHeader #graphicdesign

— Toolbox Design (@ToolboxTalks) September 19, 2012

So here's my Top 7 Reasons Why the New Twitter Header Doesn't Make Sense to Me:
Can't control the design because they added black overlay.
White text, usually a problem.
Not pleasing to the eye.
Takes up unnecessary space.
Trying to look like Facebook Timeline.
I prefer the first launch of Twitter Headers, as shown on Coca-Cola's Page.
Doesn't make sense to change the whole interface when this is just to help the mobile presence.
I did attempt to make myself a kick-ass Twitter Header, but didn't like the results.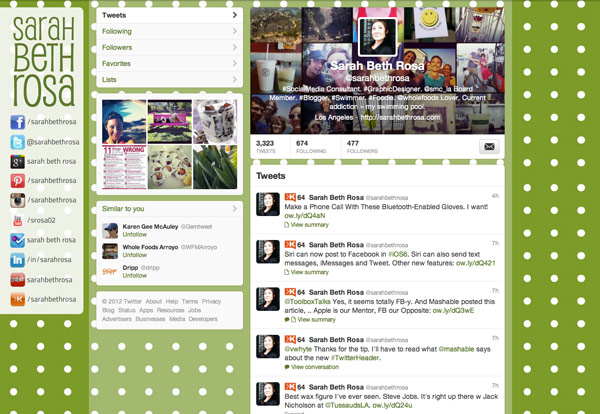 After seeing this post on Mashable today, ‪4 Quick Tips for a Better Twitter Header‬, I'm willing to give it a second try. I would like to keep my Twitter profile up to date, and make it stand out on the iPad. I am definitely going to update my client pages so they stay on top of social media trends!
What are your thoughts about the new Twitter Headers? Please comment below.
SOCIAL MEDIA CONSULTING & MANAGEMENT: I'm available for one on one social media consulting, as well as ongoing daily social media management. Whether you want someone to get you started in the digital space, or you just need a little help along the way, I'd love to work with you. Please take a look at my Social Media Consulting & Management packages.