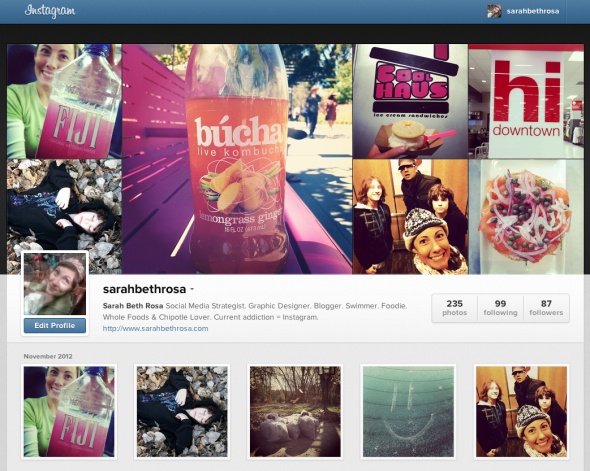 When I first learned about Instagram Profiles earlier this week, I literally jumped for joy! All the months I've been waiting for this, and the time has come.
Love the interface.
Love how they make the photos pop out at ya!
Love how I can update my profile settings online. Easy peasy.
Only hope for the future: more options to interact with other Instagrammers via web, and not have to rely on Instagram App on my iPhone. I really like the options I have within Statigram, and wish Instagram would adopt them too!
For now, I'll take this! It's a major accomplishment for Instagram! Thanks, guys!
See my Instagram Profile at instagram.com/sarahbethrosa.
Read more about Instagram Profiles on the Instagram blog.
SOCIAL MEDIA CONSULTING & MANAGEMENT: I'm available for one on one social media consulting, as well as ongoing daily social media management. Whether you want someone to get you started in the digital space, or you just need a some help along the way, I'd love to work with you. Please take a look at my Social Media Consulting & Management packages.