So it occurred to me last week that I should be collecting photos and posts on Facebook in a similar fashion as putting pins in boards on Pinterest.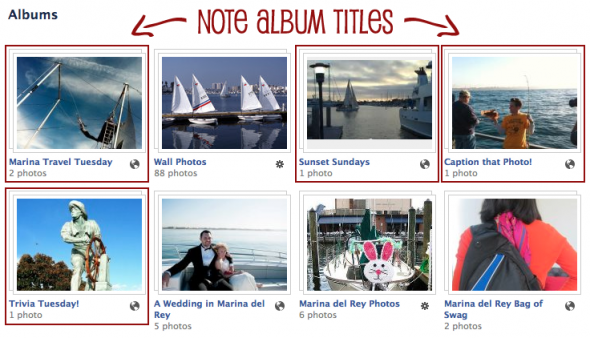 What does this mean?
When writing messaging for clients, I use special theme days to organize content and give the community stability and a forum to share and interact. It makes total sense to me to collect these theme messaging posts into some type of organized format, ie photo albums.
Some messaging themes I use are:
Sunset Sundays
Trivia Tuesday
Travel Tuesday
What's that Wednesday
Where in the World Wednesday
Quotable Thursday
Food Porn Friday
So why is this method awesome?
In my book, this is a win-win strategy, especially for new fans of Facebook Brand Pages. One of the first things a new fan will do is look through photos. My method offers new fans visual content as well as a quick glance at the tone of the brand's personality.
As you implement this into your own social media strategy, you can expect to see things like:
More engagement and interaction
Heightened brand loyalty
Here are some additional ways to use theme messaging:
Sometimes I coordinate my theme messaging on Facebook with hashtag collections on Twitter. Here's an example of #WhereintheWorldWednesday:
Notice the ReTweets. People love this stuff!
Another way to coordinate messaging into albums:
I've started to play around with making graphics for quotes and small promotions such as a Cinco de Mayo Pub Crawl for an alcohol brand client. This ensures that the messages are stored in photo albums as well as the Facebook Timeline. I could have created a text post for this promo, but I think this graphic is more effective. Plus it's stored in a photos album so it has a greater chance of getting viewed more often. I want to note that I am not suggesting to get rid of text posts. There is a time and place for them, but that's for a separate blog post. *wink*
Keep in mind that this is a new strategy I've developed. I will continue to report on results in the future. Please comment below and let me know what you think about any of the strategies I've listed above. I would love to hear your thoughts!

SOCIAL MEDIA CONSULTING & MANAGEMENT: I'm available for one on one social media consulting, as well as ongoing daily social media management. Whether you want someone to get you started in the digital space, or you just need a some help along the way, I'd love to work with you. Please take a look at my Social Media Consulting & Management packages.